SB 450 steel plate under JIS 3103 standard, as the boiler steel plate, SB 450 steel plate is mainly used for boiler and pressure vessel steel, excepting those to be used at room and cold temperatures.

27-08-2014

SB410 steel plate under JIS G3103 standard which is used in pressure vessels, boilers and heat exchangers. The following is SB410 material details for your reference.

26-08-2014

SPV235 steel plate under JIS G3115-2000 standard. As the pressure vessel steel,SPV235 steel has a good weldable and it is mainly used in high temperature equipment and pressure vessel.

25-08-2014

P235GH steel plate is a specific steel, and it is characterised by a minimum yield strength of 235 - 355 MPa, it also has good weldability. P235GH steel plate is mainly used for in pressure vessels, boilers and heat exchangers.

19-08-2014

P265GH steel plate under EN10028-2 standard.P265GH this material is mainly used to fabricate boiler and pressure vessel. So, same the other boiler steel plate, this kind of steel has the good grain and Mechanical properties.

17-08-2014
ASTM A36, Grade A36, A36 steel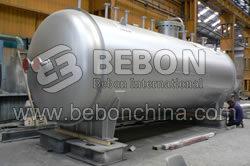 ASTM A36 steel is a kind of material for boiler and pressure vessel steel. So, ASTM A36 steel is used above all for manufacturing boilers, pressure vessels and pipes transporting hot liquids.
BEBON INTERNATIONAL is committed to steel processing and export. We have the most comprehensive service. One package service will be offered, including cutting,welding, drilling, shot blast cleaning, derusting, painting, galvanized, etc, our service will be around your requirement and ensure the perfect service. About ASTM A36 steel, we can offer specifications according to your requirements.
ASTM A36 steel chemical composition:
C≤ 16mm max

C>16mm max

Si
max

Mn max

P
max.

S
max.

0.17

0.20

--

1.40

0.045

0.045
ASTM A36 steel mechanical property:
thickness

Yield Strength ReH

[N/mm2] transv.min.

Tensile Strength Rm

[N/mm2]transv.

Fracture Elongation

[%] transv. min.

Notch Impact Energy1)Ch

Vcomplete samplelongitud. min [J]

t≤ 16mm t >16mm

235 225

20 degree 27J

t < 3mm t ≥ 3mm

360-510 340-470

Up to 1.5mm 1.51-2.00mm 2.01-2.50mm 2.51-2.99mm ≥3mm

16 17 18 19 24
ASTM A36 equivalent material:
ASTM A36 equivalent material

China

JIS

Germany

GB700-88

G3101

DIN17100x

A3FAY3F

SS41

USt37-2
We're professional for various kinds of steel plates. Our steel has high quality, competitive prices and short delivery time.If you are interested in
ASTM A36 plate
,please contact us!